DETAILS
Pelargonium graveolens
English: Geranium
Sanskrit/Indian: Geranium
Russian: Герань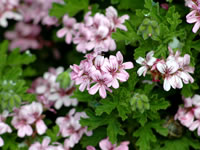 Constituents:
The essential oil is composed of various chemical constituents and includes a-pinene, myrcene, limonene, menthone, linalool, geranyl acetate, citronellol, geraniol and geranyl butyrate.
Benefits:
The therapeutic properties of geranium oil are antidepressant, antiseptic, astringent, cicatrisant, cytophylactic, diuretic, deodorant, haemostatic, styptic, tonic, vermifuge and vulnerary.
In aromatherapy, geranium oil is known for its overall balancing effect on the mind. It can relieve stress, treat mild depression, reduce anxiety and tension, and increase an individual's energy.
It functions well as an astringent, which makes the skin, tissues, and blood vessels contract. Thus, geranium oil used alone or as an ingredient in skin care products can prevent sagging, loose skin. Moreover, its astringent benefits can help prevent wrinkles from forming. Thus, geranium oil has anti-aging properties.
Geranium oil can help scars and skin spots to fade, helping create clearer, healthier skin. Acne scars can be treated by geranium oil. In addition, geranium oil is a proven acne fighter, and as a natural botanical ingredient, it can gently minimize breakouts. It can also ease the symptoms of other skin conditions, such as eczema and dermatitis.
Finally, geranium oil has cytophylactic properties, meaning that it can stimulate cellular regeneration in the skin. It encourages dead skin cells to be recycled and new cells to be created. The result is more radiant skin.