DETAILS
Lavandula angustifolia
English: Lavender
Sanskrit/Indian: Lavender
Russian: Лаванда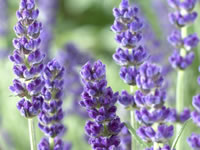 General information:
It is a strongly aromatic shrub growing as high as 1 to 2 metres (3.3 to 6.6 ft) tall. The leaves are evergreen, 2–6 centimetres (0.79–2.36 in) long, and 4–6 millimetres (0.16–0.24 in) broad. The flowers are pinkish-purple (lavender-coloured), produced on spikes 2–8 cm (0.79–3.15 in) long at the top of slender, leafless stems 10–30 cm (3.9–11.8 in) long.
Constituents:
Contains: linalyl acetate (25–46%), linalool (20–45%), terpinen-4-ol (1.2– 6.0%), lavendulyl acetate (> 1.0%), 1,8-cineole (1,8-cineol, cineol, cineole, eucalyptol) (< 2.5%), 3-octanone (< 2.5%), camphor (< 1.2%), limonene (< 1.0%), and α-terpineol (< 2.0%)
Benefits:
When we talk about aromatherapy, the first ingredient that comes to our mind is lavender. Its pleasant aroma has a calming, soothing and sedative effect on the body and mind. A refreshing note to a tired mind – lavender has been named as one of the most useful of the essences for the relief of anxiety and stress.
Good for aches and pains and muscle stiffness and may also help with rheumatic discomfort and joint stiffness.
The cicatrizant properties of lavender oil are beneficial to healing of wounds including all types of burns and even treatment of eczema, dermatitis, scabies and psoriasis.